Derrygonnelly Harps
Derrygonnelly Harps
DERRYGONNELLY HARPS AND ST MICHAEL'S COLLEGE WORK TOGETHER
TO PROMOTE HEALTHY EATING FOR YOUNG GAA PLAYERS
Double Double winner's Derrygonnelly Harps GFC has a history of nurturing its players from a young age in every aspect of the game, including nutrition.
Recently the Health and Wellbeing committee at the club ran a project called Recipes For Success, which saw 19 players from their Senior, Minor, U16 and Ladies' Teams taking part in a 'hands on' cookery workshop, kindly facilitated by St Michael's College Home Economics Dept.
Recipes For Success is the result of a unique partnership between the GAA, the Home Economics Dept at St Angela's College in Sligo, the Association of Teachers for Home Economics and leading sports nutritionist Crionna Tobin of Optimum Nutrition who collaborated in response to an identified need in GAA clubs for practical programmes supporting healthy eating for sport.  This was then rolled out enabling Healthy clubs across Ireland to run the project locally.
Mark Grannell, Chairman of the Health and Wellbeing Committee at Derrygonnelly Harps said;
"Firstly I would like to express our sincere thanks to St Michael's college and in particular Mrs Eimear Faria and Principal Mark Henry for hosting Recipes For Success.
I'd like to thank St Angela's College in Sligo and everyone involved with the rolling out of the project.  It's fair to say that our young players thoroughly enjoyed the workshop and were delighted with the Recipe book they got to take home.
Derrygonnelly Harps takes the Health and Wellbeing of our members very seriously and recognises the importance of this off the pitch, as well as on the pitch. We look forward to continuing to support our members, players and the wider community through similar initiatives in the future. "
Principal of St Michael's Mark Henry commented:
"We were delighted to be involved in Recipes for Success and to host Derrygonnelly Harps at St Michael's.  The health and wellbeing of all in our school community is very important to us. This initiative helped provide us with a platform to highlight to our students that, as well as taking regular exercise, a balanced diet also plays a huge role in keeping us all healthy. I commend Derrygonnelly Harps for organising such a worthwhile initiative."
#healthyclubs
Photos from the event
Money Raised for Horizon West as a result of Couch to 5K programme
This week, the Derrygonnelly Harps Health and Wellbeing Committtee presented Horizon West's Heather Gott with a cheque for £915.  The money was raised through the club's Couch to 5K programme last year.  Thanks to all the Couch to 5K participants, especially those who raised additional sponsorship.  Details of this year's programme will be annouced soon with registration commencing early in June.  Maybe some of the Couch to 5Ker's might like to try a new sport before then through the club's fundraising cycle which will take place on 13 May? Look out for more details on Facebook and in local press
Click on the link to see a video interview about our Couch to 5K programme.  https://www.youtube.com/watch?v=jzXc3Uf7yZc&feature=youtu.be
SafeTalk Suicide Awareness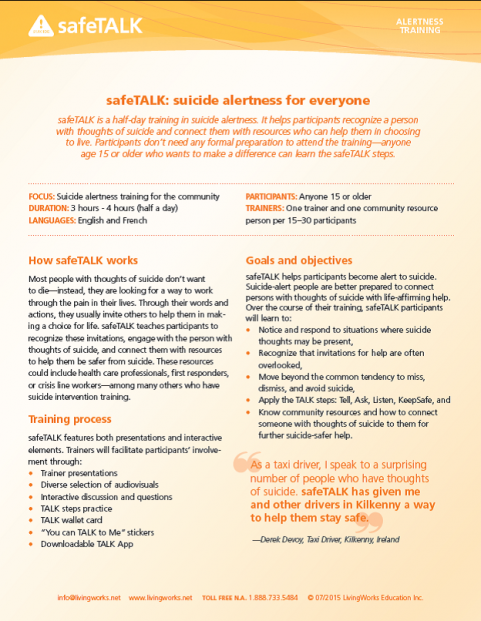 Saturday 26

th

November, as part of Derrygonnelly Harps Health and Wellbeing programme

, there will be suicide alertness training in the Clubhouse, starting 4.

45pm. 
Couch to 5K

Link to Derrygonnelly Harps Health and Wellbeing Page
Derrygonnelly Harps Health and Wellbeing Programme 2016