Club Lotto
Updated: Saturday 27th June 2020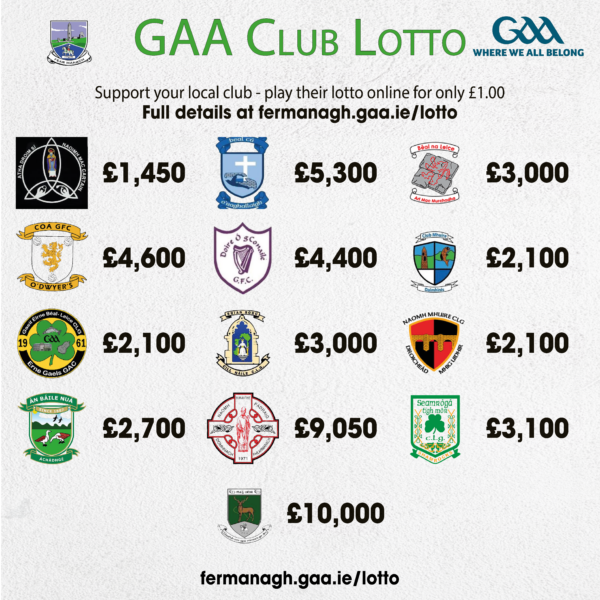 In light of the current Covid-19 pandemic and the suspension of all non-online club lottos, a number of GAA clubs in the county have taken the decision to continue their lotto, but with an online only facility.
The clubs participating are listed below and we hope to keep this information updated on an ongoing basis.
This is a very challenging time for everyone in society and it is important that when this crisis is overcome, that our clubs are in a strong position to lift the mood of the people, because our sport, culture and community activity sustain so many of us.
We would therefore encourage you to support the clubs in the county by playing their lotto if you can.
Aghadrumsee St Macartan's (Sunday night draw)

Jackpot: £1,450
https://www.klubfunder.com/Clubs/Aghadrumsee_St_Macartans_GAC/lotto
Belcoo O'Rahilly's (Monday night draw)
Jackpot: £5,300
https://www.klubfunder.com/Clubs/Belcoo_ORahillys/lotto
Belnaleck Art McMurroughs (Monday night draw)
Jackpot: £3,000
https://www.clublottery.com/Club/Details/39
Coa O'Dwyers (Sunday night draw)
Jackpot: £4,600
https://www.klubfunder.com/Clubs/Coa_O_Dwyers/lotto
Derrygonnelly Harps (Sunday night draw)
£4,400
https://www.klubfunder.com/Clubs/Derrygonnelly_Harps/lotto
Devenish St Mary's (Sunday night draw)
£2,100
https://www.klubfunder.com/Clubs/Devenish_St_Marys_GAA/lotto
Erne Gaels (Sunday night draw)
£2,100
https://www.klubfunder.com/Clubs/Erne_Gaels_GAC/lotto
Kinawley Brian Borus (Sunday night draw)
£3,000
https://www.klubfunder.com/Clubs/Kinawley_GFC/lotto
Maguiresbridge St Mary's (Sunday night draw)
Jackpot: £2,100
https://www.klubfunder.com/Clubs/St_Marys_Maguiresbridge_GFC/lotto
Newtownbutler First Fermanaghs (Wednesday night draw)
£2,700
https://www.klubfunder.com/Clubs/Newtownbutler_First_Fermanaghs/lotto
St Patrick's Donagh (Sunday night draw)
Jackpot: £9,050
https://www.klubfunder.com/Clubs/St_Patricks_GFC/lotto
Teemore Shamrocks (Monday night draw)
Jackpot: £3,100
https://www.klubfunder.com/Clubs/Teemore_Shamrocks_GFC/lotto
Tempo Maguires (Saturday night draw)
Jackpot: £10,000