Belcoo
Beal Cu O'Raghallaigh
 2nd April – Club hosted a tea dance as a social initiative with intergenerational theme – raised over £400 for Marie Curie
Beal Cu O'Raghallaigh Social Initiative
Cancer Focus NI Health Check Van
Paul McGrath(Beal Cu) Presents Damien McHugh (County Health and Wellbeing Chair) with  a donation for Cancer Focus NI after the attendance of the Health Check Van at the club during the Summer.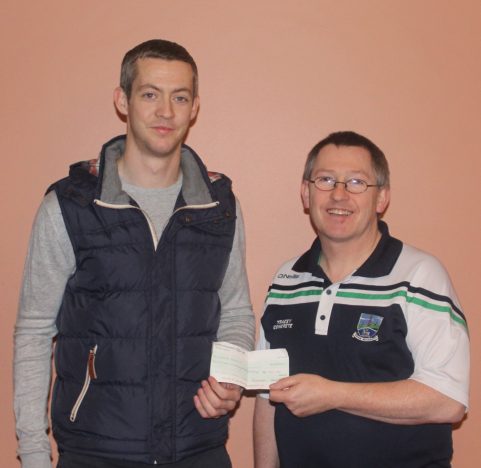 Concussion Awareness Workshop a great success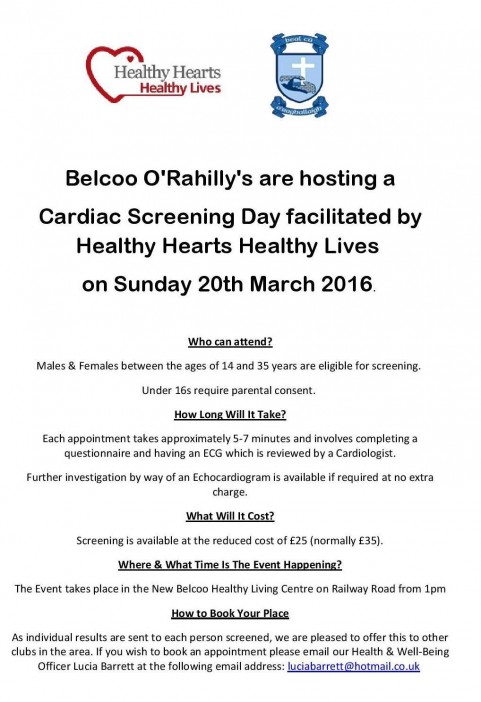 Belcoo O'Rahilly's Health & Wellbeing Programme
Monday 7th March 2016
Concussion Awareness Workshop
Belcoo Healthy Living Centre, 8pm sharp
Vital for anyone and everyone who has any contact with players of any age group including the players themselves – coaches, mentors, volunteers, parents and supporters.
Tutor: Owen Mooney
Monday 14th March 2016
Community Health Check Evening
Belcoo Healthy Living Centre 7.30pm to 9.30pm
In conjunction with Cancer Focus NI and Drink Wise/Age Well
Blood pressure, BMI, blood glucose checks, information on diabetes, smoking cessation, alcohol and nutrition.
Monday 11th April 2016
Mindset
Belcoo Healthy Living Centre 7pm to 9pm
A Mental and Emotional Health & Wellbeing Awareness Programme for Adults. Facilitated by Action Mental Health. Numbers limited, for a place please email luciabarrett@hotmail.co.uk.
The club are running three Health & Wellbeing Courses during the months of March & April in the Belcoo Healthy Living Centre… Concussion Awareness Workshop on 7th March, Community Health Check Evening on 14th March and Mindset on April 11th.. more details on club website.. we encourage our members and those within the community to attend, everyone welcome