Hurling Development
Fermanagh School's  Hurling Junior Championship 
Well done to St. Joseph's College, Enniskillen & St. Comhghall's College, Lisnaskea who competed in the Fermanagh GAA VEC Secondary School Junior Championship on (Tuesday 13th May) in the Lakeland Forum.
As there was only the 2 schools competing this year we decided to play a 4 team blitz where the players from both schools were mixed into teams. This was a very enjoyable blitz and allowed the players to hone their skills for the big game.
After lunch the players donned their school colours for the Secondary School Junior Championship final.
This game proved to be a tight affair with top quality hurling on display.
Thank you to St. Comhghall's College teacher Mr. Collins & St. Joseph's College teacher Mr. O'Rourke for their continued support and promotion of Hurling in their schools.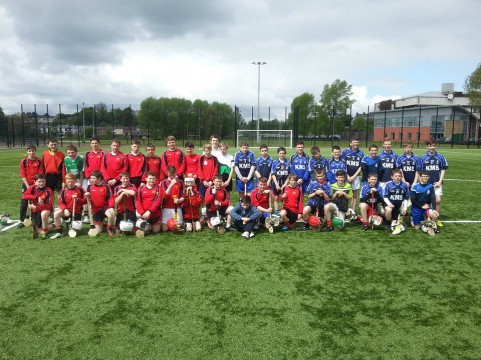 ______________________________________________________________________________________________________
St Michael's qualify for Ulster Mallon cup finals 
Well done to St. Michael's College Enniskillen who qualified for the Ulster Colleges Mallon Cup Finals (U14 1/2) which will take place  (14th May).
(Tuesday 6th May) a young talented group of St. Michael's Hurlers travelled to the Mid Ulster Sports Arena in Cookstown where they competed in the Mallon Cup qualifying blitz under the stewardship of Mr Hughes.
The boys were defeated in their first game to a big physical Lorreto College Colleraine team but responded in brilliant fashion winning their following three matches against Warrenpoint, Donnaghmore & St. Paul's Bessbrook.
Young St Michael's team come close in Ulster Finals
The finals blitz was held in MUSA Cookstown with 4 teams competing (St. Michael's College Enniskillen, Loretto College Coleraine, Colaiste Feirste Belfast & St. Mark's College Warrenpoint).
St. Michael's College began the blitz well defeating Colaiste Feirste comprehensively with a brilliant team performance.
Next up was St. Mark's College.
St. Mark's College were quick out of the blocks and built up a huge lead in the 1st half.
However St. Michael's College regrouped and got the measure of this strong St. Mark's College team in the 2nd half. In the end St. Michael's College ran out of time & St. Mark's College held on for a narrow victory.
Next up was Loretto College Coleraine.
Due to how the other results in the blitz had went this last game was the Final – Winner takes all!!!
This game proved to be a cracker!
Both teams gave it everything answering each other score for score! The sides were level at half time and with a minute left on the clock St. Michael's College were 2 points up.
Loretto College gave one last roll of the dice moving their influential Centre Back to Full Forward and to St. Michael's College disappointment it paid off.
He got on the end of a long ball in and finished with a goal.
Lorreto won by a point and in doing so secured the Mallan Cup trophy.
Well done to St. Michael's College who were excellent throughout the competition, the performances they showed were even more impressive when you look at the age of the team. Only 3 of the panel are over age for next year.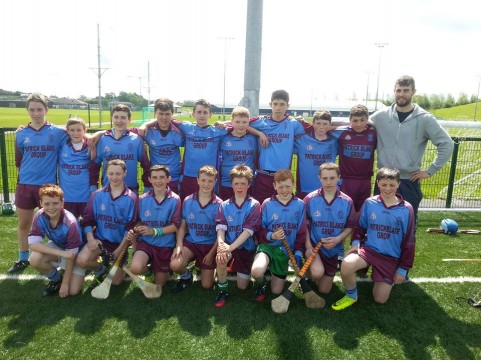 ______________________________________________________________________________________________________
2014 Fermanagh Hurling  Go Games 
Well done to Ederney & Knocks Grattans who took part in the Hurling Go Games  in Ederney GAA 28/04/14.
It was a great evening with over 50 children playing hurling. The skill level was very high and we can see the clubs progressing.
______________________________________________________________________________________________________
Hurling Go Games Programme 2013
The Fermanagh Hurling Go Games Programme (U8 & U10) will take place once a month on a Friday evening from March – September. Each Club will be asked to host a blitz throughout the season. We also plan to hold a Go Games Blitz day on the Wednesday of the Brewster Park Hurling Cúl Camp.
This Programme will provide regular game opportunities for each team and will also support the coaching that is being delivered in the clubs.
Fermanagh Hurling Go Games Programme 2013

Date:
Time:
Venue:
Friday 19th April
7:00 pm
Ederney St. Joseph's GAA
Friday 10th May
7:00 pm
Knocks Grattan's GAA
Friday 7th June
7:00 pm
Derrylin O'Connell's GAA
Wednesday 3rd July
11:00am
Brewster Park Hurling Cúl Camp
Friday 9th August
7:00pm
Lisbellaw St. Patrick's GAA
Friday 6th September
7:00pm
Lisnaskea Emmett's GAA
In addition to the internal Go Games Programmes being run in Fermanagh, Cavan & Monaghan, we are also planning to have three Super Go Games Blitz days throughout the year. Each County will host one in their County Grounds and all Hurling Clubs from the three Counties will be invited to attend.