Go Games 2014
Fermanagh Go Games Football Blitz U10 & U8 Programme (2014)
Week 1
DATE

HOST CLUB

TRAVELLING

DESIGNATED CONTACT

Friday

16/05/14

@7:30pm

Roslea
Teemore & Brookeborough
Aodhgan Murphy
Maguirebridge
Newtownbutler, Irvinestown & Coa
Aisling Doonan
Lisnaskea
Donagh, Aghadrumsee
Owen Mooney
Week 2
DATE

HOST CLUB

TRAVELLING

DESIGNATED CONTACT

Friday

23/05/14

@7:30pm

Teemore
Lisnaskea, Brookeborough & Coa
Aisling Doonan
Newtownbutler
Roslea & Aghadrumsee
Fabian Burns
Donagh
Irvinestown & Maguiresbridge
Pronsias O'Kane
Week 3
DATE

HOST CLUB

TRAVELLING

DESIGNATED CONTACT

Friday

30/05/14

@7:30pm

Brookeborough
Newtownbutler & Irvinestown
Fabian Burns
Coa
Donagh & Lisnaskea
Pronsias O'Kane
Aghadrumsee
Maguiresbridge, Teemore & Roslea
Aodhgan Murphy
Week 4
DATE

HOST CLUB

TRAVELLING

DESIGNATED CONTACT

Friday

6/06/14 @7:30pm

Irvinestown
Aghadrumsee & Coa
Pronsias O'Kane
Lisnaskea
Teemore, Roslea & Newtownbutler
Aisling Doonan
Brookeborough
Maguiresbridge & Donagh
Teresa McNabb
DATE

HOST CLUB

TRAVELLING

DESIGNATED CONTACT

Friday

13/06/14

@7:30pm

Maguirebridge
Teemore & Lisnaskea
Fabian Burns
Aghadrumsee
Donagh & Roslea
Aodhgan Murphy
Coa
Irvinestown, Brookeborough & Newtownbutler
Teresa McNabb
| | |
| --- | --- |
| DESIGNATED CONTACT | CONTACT NUMBER |
| Fabian Burns | 077 11830118 |
| Aisling Doonan | 075 12146315 |
| Aodhgan Murphy | 077 06330185 |
| Owen Mooney | 078 27973059 |
| Pronsias O'Kane | 077 42352403 |
| Teresa McNabb | 077 14892209 |
Coaching & Games Regional Go Games Football Blitzes
We proposed that the 10 clubs not taking part in the Derrygonnelly Tournament should take part in a series of Go Games Blitzes for U8½s & U10½s involving players up to & including players in P. 6 in 2014) during May/June – starting on Friday 17th May 2014.
Finishing the Go Games Programme off with 3 Monster Blitz, where all clubs will be invited to attend, with the possibility of these in various venues around the county.
Dates:
Saturday 28th June 2014 – Lisnaskea or Lissan
Saturday 26th July 2014 – Irvinestown or Lissan
Saturday 9th August 2014 – Lissan
_____________________________________________________________________________________________________
Fermanagh 2014 NFL & NHL half time Go Games
Spectators at Brewster park during Fermanagh's recent National football league games and national hurling league games have been treated to seeing the next generation of stars playing Gaelic games during half time  .
This is of course a great day out for all children and parent's/mentor's participating who get rewarded in playing in front of a big crowd after months of training and development with their clubs , The Fermanagh Coaching and games team would like to thank all club through out the county who's volunteers put there time and effort in on giving youngsters the best experience of Gaelic games as possible.
During Fermanagh v Sligo(08.02.2014) the two go games pitches where with players from the Enniskillen Gaels club and Derrygonnoly Harps with each club bringing 18 players.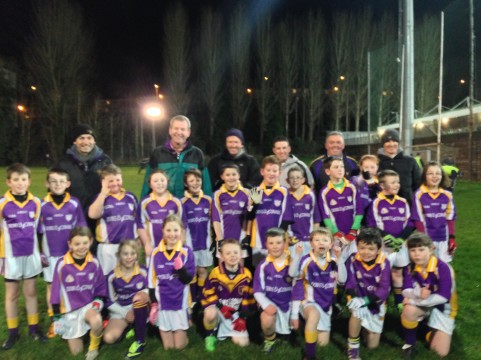 Fermanagh v Roscommon (09.03.2014) during the half time break ,three clubs where representative with two teams from Newtownbuttler and a team each from Devenish and Irvinestown clubs.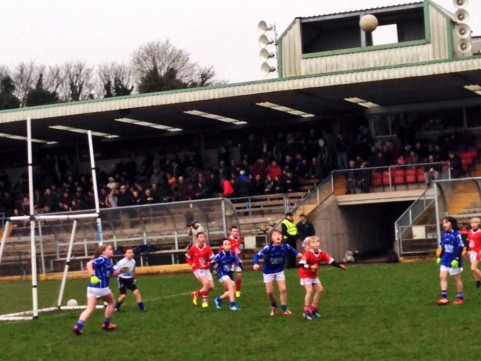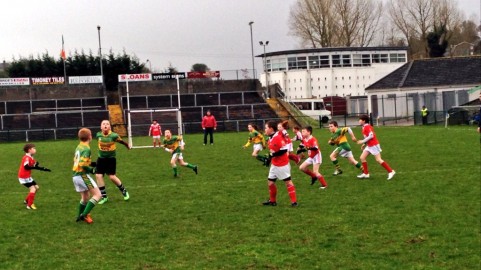 During Fermanagh hurlers league game v Roscommon the crowd was treated to Fermanagh hurling stars from Belnaleck and The Knocks with over 40 hurlers playing at Brewster at half time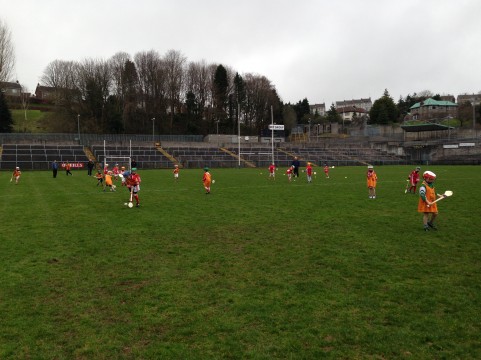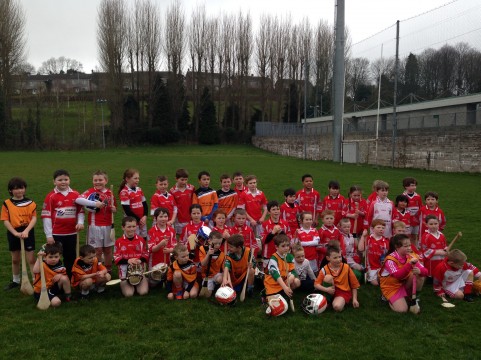 With a few more home games still left make sure you cheer on the future of Fermanagh GAA.