A top of the table derby clash with plenty of spice on the menu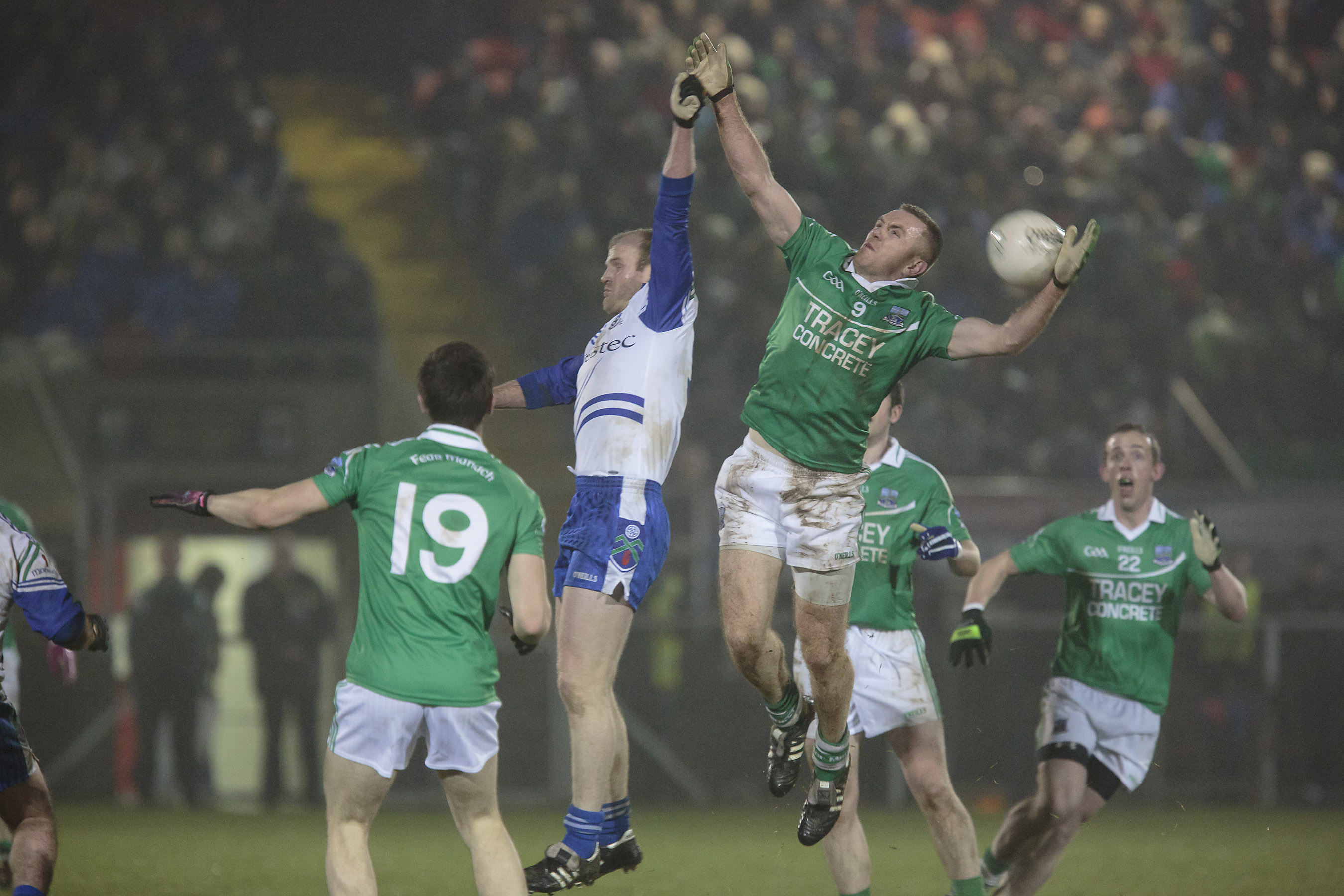 A meeting of two sides at the top of the table should, on its own, signal an interesting tussle, but when the fact that it is a derby encounter is also thrown into the mix then it adds to the occasion. And on top of all that we then have two former club team-mates at the helm for the respective counties, one of whom is a former manager of the other county.
Yes, Fermanagh's encounter with Monaghan has the makings of a good contest under the lights of Brewster Park on Saturday night as the neighbours look to build on their respective good starts to their league campaigns.
For Fermanagh, they have an unbeaten start to the league to protect, Paul Ward's converted free in added on time last Saturday night earning them a share of the spoils at Casement Park against Antrim to follow on from wins over Wicklow and Roscommon. But Peter Canavan is more than aware that this is set to be their toughest test to date as they take on a Monaghan side, under the guidance of former Fermanagh boss Malachy O'Rourke, who have been tipped to make a swift return to Division Two following their relegation last season.
This is a difficult run of games for Fermanagh with three consecutive matches against Ulster opposition, but they will enter the contest in a positive frame of mind given that they head the Division Three standings after three games.
As has already been stated though, Monaghan should provide another step up at Brewster Park, O'Rourke's outfit bouncing back from a disappointing defeat to Cavan to record a comfortable victory over Sligo last Sunday.
And the Farneymen will be keen to push themselves further into the promotion mix by leaving Brewster Park with the points in the bag on Saturday night.
O'Rourke's side were impressive in despatching the Yeats County on Sunday and they have plenty of experience throughout the pitch.
Defensively, they were very good as they restricted Sligo to only seven points. Dessie Mone is a key man at the back for Monaghan and they will be hoping that Darren Hughes returns to further boost their defensive ranks.
At midfield, O'Rourke, who is a former Errigal Ciaran team-mate of Canavan's, can call on Dick Clerkin and Owen Lennon who are a formidable partnership while up front they have plenty of potency in the likes of Paul Finlay, Tommy Freeman and Ciaran McManus, McManus set to return to line up after suspension following his dismissal against Cavan.
Canavan will be well aware of the threat that Monaghan pose, and while that will come into his thinking, the focus will be on getting another big performance out of his side.
One worry for Fermanagh is the injuries that they have picked up and he will be hoping to see some players return. Sean Quigley and James Sherry are unlikely to feature during the rest of the league programme and they are big losses to the squad as both had been performing well in the opening encounters. In particular Quigley's deadball kicking had been a massive bonus to Canavan's side, the Roslea forward having rattled up 0-16, of which 0-13 had come from deadballs in the first three league games.
However, his absence opens the door for somebody else to come in and show what they have to offer. And this has been one of the major pus points for the management this year. When players have been called upon, they have stepped up and performed. Last week Niall Bogue, Anthony McGuinness and Marty McGrath all came in and showed up well, and all three will be hoping to hold on to their jersey. Substitutes Conor Quigley and Tomas Corrigan also made an impact while it is also hoped that Ryan Jones and Damian Kelly will be back after missing out against Antrim and Ryan McCluskey, Barry Owens, Daniel Kille and Ronan Gallagher are pushing hard with Owens and Kille having been among the substitutes in Casement Park.
Fermanagh will know that Monaghan have the ability to punish them but the Farneymen will be aware that Fermanagh carry a scoring threat of their own. Indeed, Canavan's side are the division's leading scorers, and despite losing Sean Quigley they have others who can hurt them. They also have a good spread of scorers from all over the pitch with ten players having got their name on the scoresheet so far in the league.
Saturday night is going to be a tough battle and the tussle for possession in the middle third is going to be vital as both sides look to lay a foundation there for getting a supply of ball into their attack. And then it will be down to who takes their chances.
You would expect this game to be very keenly contested with little time or space afforded to either side. You would also feel that there is going to be little between the sides and it may be the side who has that little rub of the green that comes away with the points on the night.