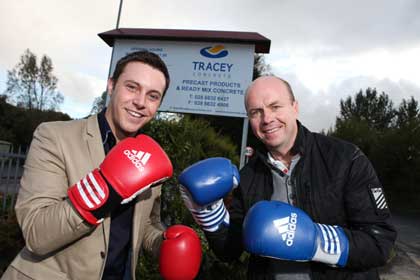 The Brewster Brawl – Fermanagh GAA Fundraising Weekend
Let's get ready to Ruuummmmmmmble is the only word on the street throughout Fermanagh and it neighbouring counties as the countdown to one of the biggest events ever organised in Brewster Park has started. The Fermanagh Senior Football team and management are putting together a fantastic weekend's entertainment in late November which is now aptly named The Brewster Brawl.
Running from Thursday November 22 to Sunday November 25 it promises to be four great nights of acting, sweet singing, bruising boxing and to round it all off a magnificent monster bingo.
Funds from the weekend will go towards some of the extra expense encountered in running the senior football team and the weekend will be sponsored by loyal supporters Tracey Concrete. The team also intend to make a significant donation to the Cormac Trust to support the wonderful work the Trust undertakes.
The action will kick off on Thursday night when the very successful Borderline Players bring their hugely successful play "Cash on Delivery" to a state of the art marquee located in the Brewster Park complex for a final showing. The play has sold out all its previous venues so this is a last chance to see this laugh a minute play before the Borderline Players start work on their new production.
Friday night will see the irrepressible and very much in demand Nathan Carter entertain the crowds like only Nathan can do. Advice is come early to avoid disappointment as a huge crowd is anticipated to see the hottest singing sensation currently on the road. For those that do arrive early they will be entertained by some of the best young musical talent in Fermanagh as local lads Niall Dooris, Sean Sands, Frank Brough, Dwanye McGowan and Colin Timoney take to the stage to form for one night only a very capable support act.
The weekend will finish on Sunday afternoon with a massive Monster Bingo with ?5,000 of prizes guaranteed. One lucky person will walk away with the last game jackpot sum of ?2,500 and what a great start to the Christmas season that would be.
Sandwiched in between is a white collar fight night extravaganza (The Brewster Brawl) that is sure to have every spectator on the very edge of their seats. With current players, past players, county board officials and inter county stars from Tyrone and even famous journalists all getting involved it is sure to be a night of blood, sweat, tears and plenty of wild swipes.
Errigal Ciaran and Red Hand star, Peter Harte will lace up his gloves for the big event and hopefully some Fermanagh man will be able to lay a glove on him in the ring! Some of the 'stars of the Erne' from yesteryear will also be getting involved. Tom 'the Hitman' Brewster and Raymond 'Golden Boy' Gallagher are both threatening to float like butterflies and sting like Bees on the big night.
Journalist, author and press conference evictee Declan 'the Hack Attack' Bogue will also be doing his bit and getting inside the ring for a bit of a dust up. Rumours that he encamped outside Jim McGuinness' house in an effort to goad the big man into a fight have proved untrue which might be just as well for the Tempo Tornado. It may not have been a case of 'Jimmy winning matches' but rather 'Jimmy knocking hacks out.'
And there are some of the current Fermanagh players looking to impress Peter Canavan with their tenacity in the ring. Shane 'Pretty Boy' McCabe is currently eating three steaks a day in an effort to make a weight that is somewhat close to some of the other competitors. The flyweight is hoping to rise to lightweight for the big night; fingers crossed for the Belcoo battler. Ederney man Marty McGrath will be one boxer that no-one will want to get in the ring with. As a youngster he was an excellent exponent of the sweet science and any rustiness is sure to be well and truly removed by the night.
In all the following people have committed to some pugilism on November 24; Ryan Jones, Paul Ward, Declan McCusker, Marty McGrath, Chris Snow, Niall Bogue, Shane McCabe, Brian Cox, Marty O'Brien, Ryan Hyde, Ryan McCluskey, Declan Bogue, Peter Harte, Tom Brewster, Raymie Gallagher, Johnny McManus, Pee Treanor and Kane Connor.