Strategic Plan
Fermanagh GAA has established a Strategic Plan Implementation Committee to monitor progress against target and to report back to every second County Committee meeting with an update.
The full plan can be viewed at Fermanagh GAA Strategic Plan 2020-2023 and reporting on progress of the implementation of the plan can be view in real time at https://freedcamp.com/view/2962440/tasks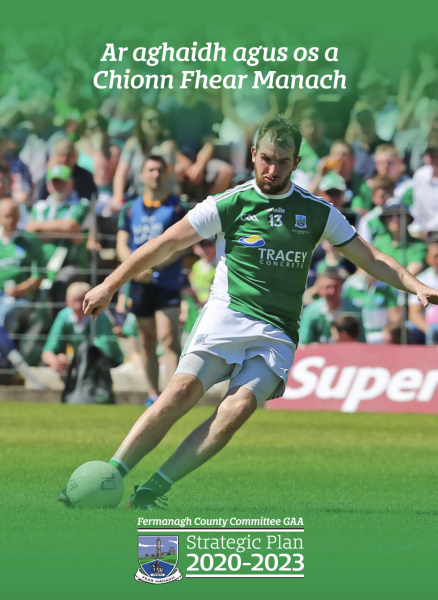 The Vice President of Ulster GAA Ciaran McLaughlin recently visited Fermanagh to officially launch the 2020 Strategic Plan.
The plan, entitled 'Ar Aghaigh agus os a chionn Fhear Manach' was the result of months of hard work and careful consideration following extensive consultation with members and stakeholders from inside and outside the GAA.
The work was spearheaded by a small group including Co-Ordinator Tiernach Mahon, County Secretary Tom Boyle and Vice Chairperson Phil Flanagan.
The 2020 – 2022 Strategic Plan seeks to build on previous plans, which have been, for the most part, successfully implemented since the turn of the century. It also seeks to complement the Provincial and National Strategic Plans recently published to cover the next 3 years.
The plan is very comprehensive and forward-looking and contains strategic themes on:
Governance
Building a Shared Future
Infrastructure
Culture, IT & Promotion
Health & Well-being
Coaching & Games Development
Finance & Fund-Raising
Safeguarding
The strategic plan has been shared with all units within the Association in the County and is available to view on the link at the top of the page.