#OnThisDay 11th June 2000 – Fabulous Fermanagh write their own history
By Tom O'Riordan – Irish Independent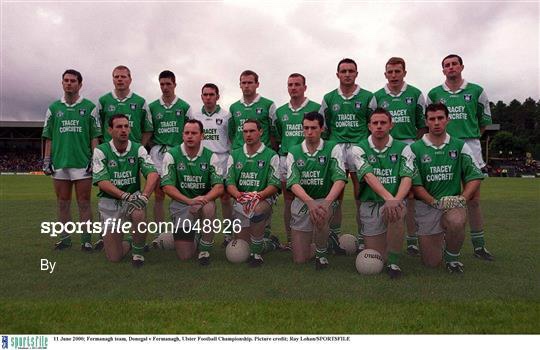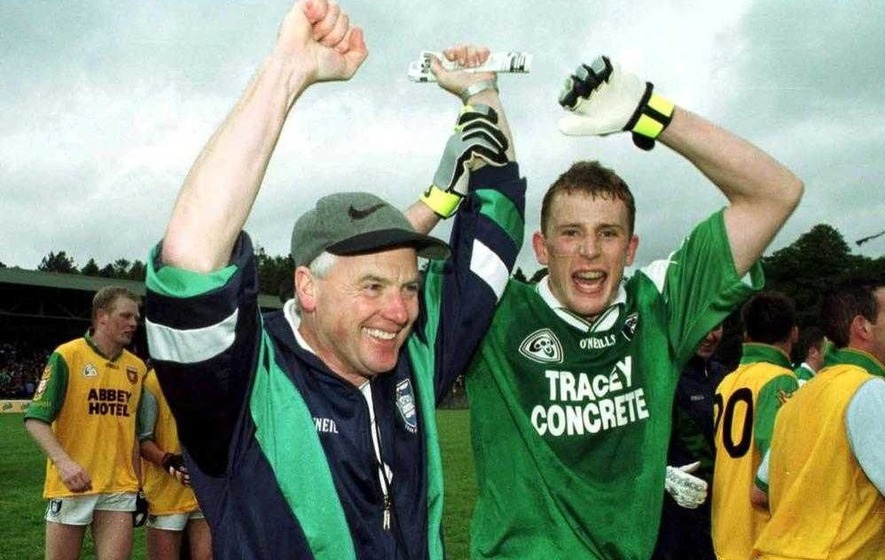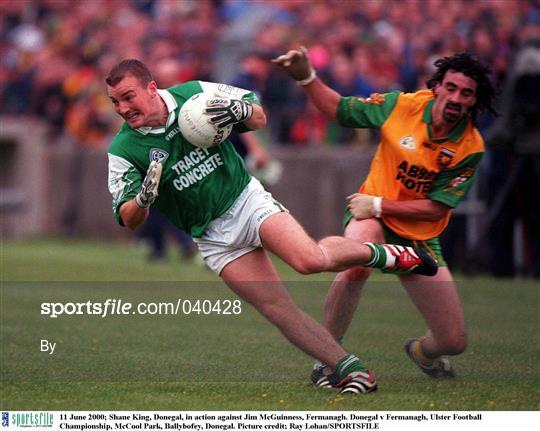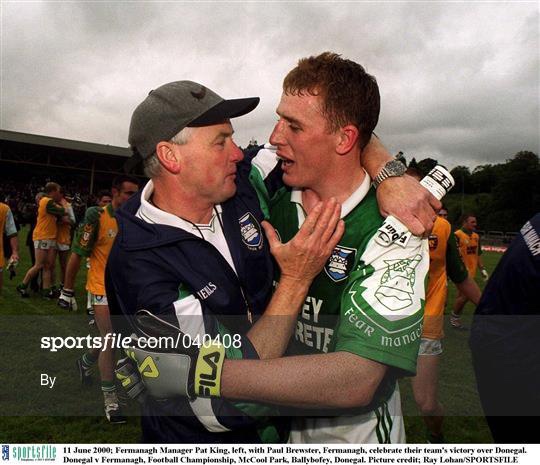 FERMANAGH 1-12 DONEGAL 0-13
NOT since 1936, the year Jesse Owens starred in the Berlin Olympics, had Fermanagh beaten Donegal in an championship encounter, but history counted for nothing at McCool Park in Ballybofey yesterday.
Instead, the fabulous footballers of Fermanagh wrote their own history, scoring a magnificent victory over their more illustrious neighbours in an absorbing Bank of Ireland Ulster Football Championship semi-final.
Afterwards Fermanagh supporters, delirious with joy, streamed onto the pitch to embrace their heroes who – through sheer heart, pride and self belief – had triumphed over adversity.
They did it with only 14 men for the entire second half after centre-back Tony Collins was sent off by Galway referee Des Joyce who also amazingly booked 17 players.
And they triumphed despite losing their best player Rory Gallagher to injury.
And if that wasn't bad enough, they seemed doomed to defeat when they trailed with just 12 minutes remaining.
However, against all the odds, they pulled through, making this the finest achievement by a Fermanagh team since the county reached the Ulster final 19 years ago.
It was no wonder that Donegal supporters among the 16,000 crowd shuffled away disconsolately afterwards, utterly unable to fathom how a team which had been presented with a winning hand managed to toss it to the wind and throw Fermanagh a life-line which they grabbed with both hands.
BELIEF
"We knew coming here that we had every chance of winning because there is a belief in this team like nothing I've ever experienced in the past," said star centre-forward Rory Gallagher who was their top scorer and their `Man of the Match' despite being forced to retire with a knee injury 20 minutes from the end.
It was a defeat which also brought an end to the reign of Donegal manager, Declan Bonner, who was the picture of dejection afterwards when he spoke to reporters.
"We had chances to win the game at a vital stage, but that is football. It's disappointing for me to bow out in this way, but I had my mind made up that this would be my last year. However, I had hoped to have ended it on a higher note."
Fermanagh won this game because they had the greater will to win. They were more adventurous and showed awesome fighting qualities. They grasped the nettle and wore their hearts on the sweat soaked sleeves of their green jerseys.
"This is probably one of the greatest days in Fermanagh football, but I would be hopeful that this will not be the end of it because we have a panel of players who are determined to achieve goals which we have all set for ourselves," said midfielder Tom Brewster.
SENT OFF
Centre-back Tony Collins didn't make matters easier for his colleagues when he was sent off in the 39th minute of the first half after he got involved with John Gildea on the end-line.
It happened as Tony Boyle was lining up a 45 yard kick which should never have been awarded to Donegal in the first place as the ball had been clearly punched wide by a Donegal forward.
That sending off was one of many situations which brought the wrath of the crowd on Galway referee Des Joyce who issued yellow cards like snuff at a wedding, 17 in all, seven to Fermanagh and one to Bonner for unofficial encroachment on to the pitch.
However, these ludicrous yellow cards were thankfully completely overshadowed by the manner in which Fermanagh fought back from what looked to be a hopeless position when Michael Hegarty put Donegal 0-13 to 1-8 ahead with 12 minutes left on the clock.
Up to that point, Fermanagh had not scored since the second minute of the half, but they seemed to take great heart from a penalty miss by Donegal full-forward Tony Boyle.
The penalty was awarded when substitute Michael Lilly tripped Adrian Sweeney, but Boyle drove his kick two feet left of the post.
After that miss, Fermanagh stood up and were counted. Raymond Gallagher sparked the fight-back with a wonderful point and four minutes later their impressive substitute, Shane McDermott, had them level after a defence splitting move.
Now it was up to Donegal to respond, but they could not contain a rampant and fired up Fermanagh.
Fermanagh gained further encouragement when James Gallagher sent a shot wide, and then a foul by Paddy Campbell on the impressive Stephen Maguire saw Shane King, the son of the manager, show great courage by kicking the free between the uprights to put Fermanagh back in front.
There were still five agonising minutes remaining, but once again Donegal wasted a chance as Noel McGinley fired wide before the Fermanagh crowd raised the roof when McDermott kicked over his second point.
Donegal now threw caution to the wind and had a free which they could have pointed, but Ollie Reid attempted to set up the goal only for the Fermanagh defence to again rise to the occasion as they had done for such long periods.
MAGNIFICENT
Fermanagh fully deserved this victory on a day when they had many stars. Paddy McGuinness and Barry Carty starred in their full-back line as did Justin Gilheaney and Tommy Callaghan in the half line, while Brewster and Liam McBarron were just magnificent at midfield, especially the way they constantly showed for the ball.
They scored some great points and the goal from Rory Gallagher after 25 minutes was a gem. He collected a flicked pass from Maguire on the run to get inside the cover and then, as smart as you like, produced a side-chip over the head of the advancing Tony Blake for a fantastic goal.
However Donegal – inspired by great efforts on the part of Damien Diver (who came in for Noel Hegarty who suffered a family bereavement), Brian McLaughlinn, Jim McGuinness and especially John Gildea at centre-forward – bravely fought their way back from being four points behind to score six on the trot in the space of 14 minutes to take what looked to be a significant lead.
But it was not to be against a side who had so much belief and no little skill.
MAN OF THE MATCH – Rory Gallagher (Fermanagh).
SCORERS – Fermanagh: Rory Gallagher 1-6 (0-5 f, 0-1 `45′), Raymond Gallagher 0-2, S McDermott 0-2, J Gilheaney and S King (f) 0-1 each. Donegal: T Boyle 0-6 (5 f, 1 `45′), A Sweeney 0-2 f, B McLoughlin, M Hegarty, J Gildea, B Devenney, O Reid 0-1 each.
FERMANAGH – D Feely; B Carty,, P McGuinness, P Courtney; T Callaghan, T Collins, J Gilheaney; P Brewster, L McBarron; K Donnelly, Rory Gallagher, R Johnson; Raymond Gallagher, S Maguire, S King. Subs: T Brewster for Donnelly (47m), M Lilly for Courtney (49m), S McDermott for Rory Gallagher (50m, inj).
DONEGAL – T Blake; M Crossan, R Sweeney, N McGinly; O Reid, P Campbell, D Diver; B McLaughlinn, J McGuinness; B Roper, J Gildea, M Hegarty; A Sweeney, T Boyle, B Devenney. Subs: N Hegarty for R Sweeney (40m), J Gallagher for Roper (59m), J Friel for McGuinness (61m), J Ruane for McLaughlinn (69m).
REF – D Joyce (Galway).