FERMANAGH SENIOR FOOTBALL CAPTAIN APPOINTED
New Fermanagh Senior Football Team Manager, Kieran Donnelly has appointed his captain for the year ahead. The honour goes to Ederney St. Joseph's player Declan McCusker.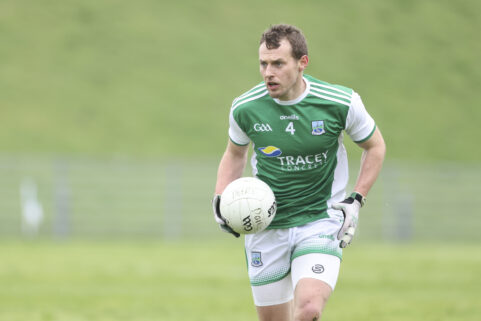 Photo by Donnie Phair
McCusker who is 31 made his championship debut v London in 2011 and his League debut v Kilkenny in 2012. Over the past 11 years the very versatile school teacher has represented his county with great distinction and in a number of roles on 111 occasions.
Prior to playing adult football Declan won Dalton and Rannafast Cups with St Michaels College, Enniskillen. He also quickly progressed to playing Senior football, along with his brothers for Ederney St Josephs. In 2013 he was an integral part of the team which won the Fermanagh Senior Football League Division 1 title and in undoubtedly his proudest day in an Ederney shirt he captained his Club to the 2020 Senior Championship. This victory bridged a 52 year gap for the progressive north Fermanagh Club.
Declan has had many great days in a Fermanagh shirt including an appearance in the 2018 Ulster Final and the All Ireland Quarter Final in 2015. He also represented his province in 2016 when Ulster won the Railway Cup under the management of Pete McGrath
Speaking about his appointment Decky as he is commonly referred to said "It's and absolute honour to be named captain of the Fermanagh Senior football team. It's is something I dreamed off when I started playing underage football and it is therefore a very proud moment for me, my family and my club Ederney St. Joseph's".
Fermanagh manger Kieran Donnelly said "There were a number of contenders for this job, however with the way Decky has trained, played and influenced the younger members of the squad over the last few months he was someone I could not go past. He is hugely popular figure in the dressing room and his influence will be very important as we begin our National Football League campaign on Saturday night in Brewster Park".