Fermanagh GAA TV Update – 27th August 2020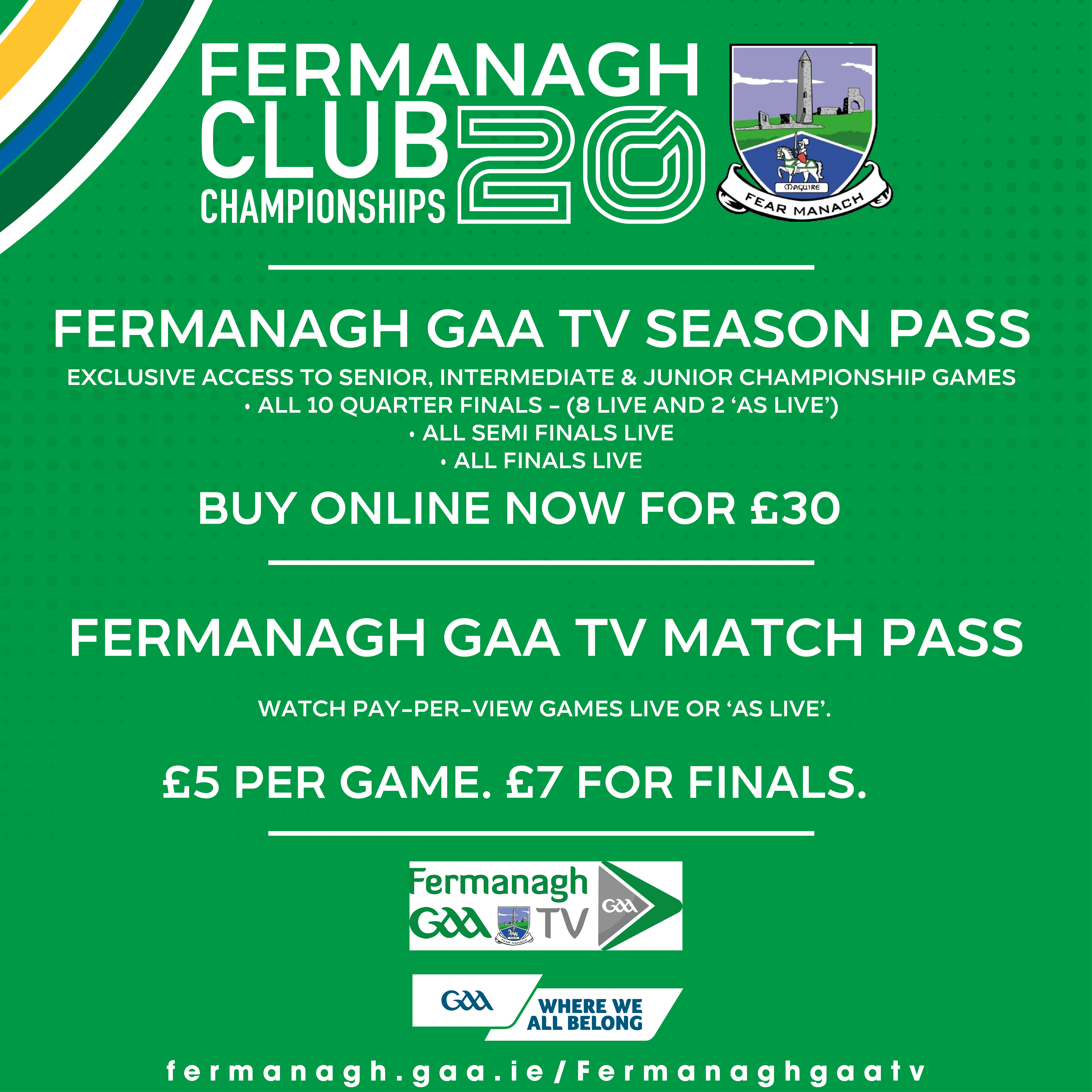 As you will be aware, we are beginning our live coverage of the 2020 Fermanagh Club Championship tomorrow evening in Brewster Park, with LIVE coverage of Belnaleck Art McMurroughs and Ederney St Joseph's. The response we have received to date from people purchasing tickets has been wonderful so now the pressure is on our very small team to deliver and we are working hard to do so, all of us on a voluntary basis.
We will be bringing 8 games live this weekend with the other 2 available in full to watch on Saturday night.
Each game costs £5 and all of this weekend's live games are now available to purchase at https://www.247.tv/gaa/fermanagh and to watch on this site when an account has been created. Alternatively, a £30 season pass can be purchased at www.fermanagh.gaa.ie/FermanaghGAATV giving access to all these 10 games, all 6 Semi Finals and all 3 Finals. People should purchase a Season Pass before 4pm on Friday to get access to this weekend's games. The deferred games can be purchased when they are available.
We would advise that you create your account before the day of the first match you wish to watch and make sure that you can login.
Please note that Chromecast is possible with our player on Android and Airplay on Safari browser only and that you need a download of 3mbps to be able to watch the stream.  So to be clear, we do not cast from iPads or iPhones – We also do not support Smart TVs with our streaming. There is a test stream that people can check if it will work for them at https://www.247.tv/gaa/test-video.
IMPORTANT – SHARING USER LOGINS IS NOT PERMITTED AND WE ARE MONITORING THIS AND WILL DISABLE ANY ACCOUNTS DURING THE LIVE SHOWS IF WE SEE MULTIPLE LOGINS.