Dr McKenna Cup: Round 2 – Antrim v Fermanagh
Fermanagh GAA are delighted to offer an annual Season Pass to radio commentary for up to 50 matches in the 2020 Season. Or individual games can be listened to for the price of £2.50 per game.
If you have any problems, please send a WhatsApp message to our dedicated technical support line on 07432111008.
Payment Information
Your unique passcode will be emailed to your PAYPAL email address following the payment process. Also check your junk or spam email inbox . The email with the passcode comes from chairperson.ccc.fermanagh@gaa.ie so please keep an eye out for it.
This ticket cannot be shared with other devices and will only one on one device at a time. If you share it with someone else, when they watch it, you will be kicked out. This service uses Two Factor Authentication to prevent sharing. More details on Two Factor Authentication can be found below.
PLEASE DO NOT SHARE YOUR PASSWORD WITH ANYONE OR LEAVE THE BROADCAST ONCE IT STARTS AS THIS SEEMS TO CAUSE PROBLEMS.
Technical support will only open on match days and we will respond to your message as soon as possible.
Or click HERE to access broadcast in a new window.
Two Factor Authentication
Here's what the customer experience looks like when someone buys a pay-per-view video ticket. As soon as the payment is processed, the viewer can start watching. They don't have to think about passwords at this point. Upon purchasing, they also receive an email with a unique PPV password. This password is only required when the viewer decides to watch on a different device or browser (this will include moving from inside Facebook/Twitter to a standalone browser such as Safari/Chrome/Firefox). Now, imagine a viewer decides to watch PPV videos on another device/browser/application. The viewer will have to authorize that device/browser/application. First, they have to enter their password and then they will receive an email with a 2FA auth code (check the Spam/Junk folder again). When they enter the 2FA auth code, the new device/browser/application will be authorized and the viewer can start watching. At this stage, the original device/browser/application will no longer be connected.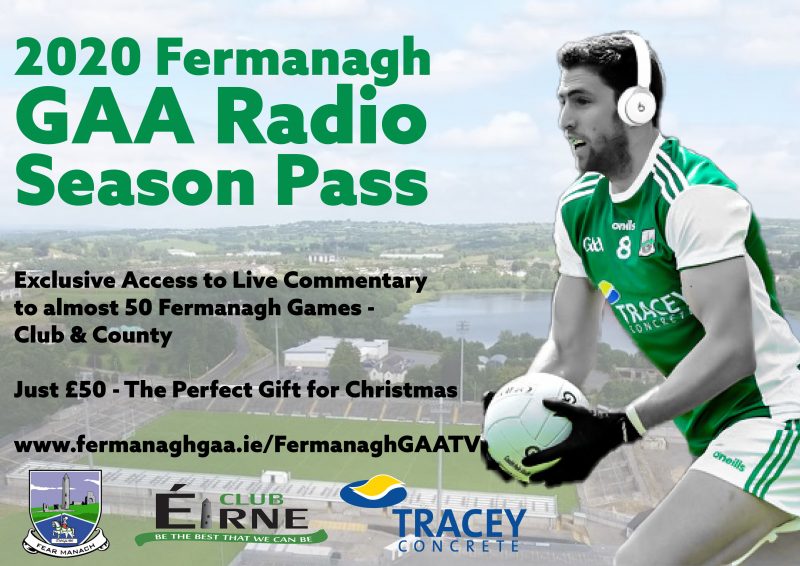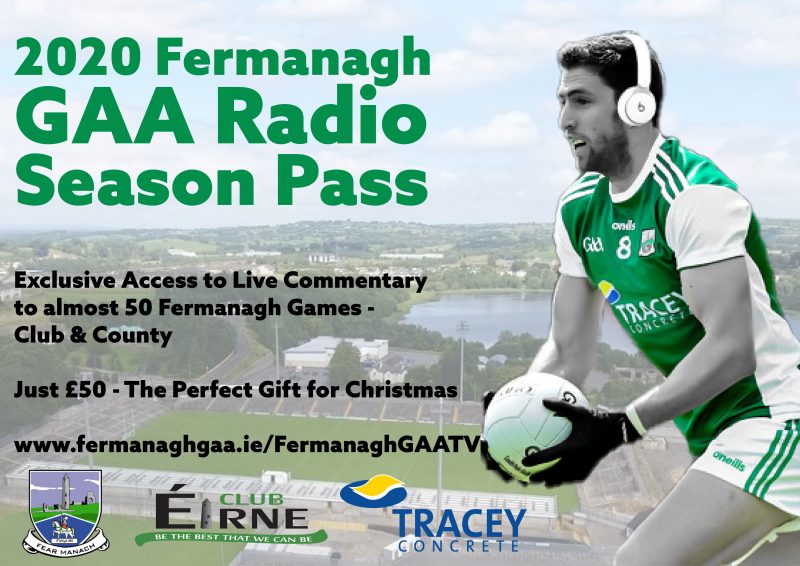 Live coverage will be provided from:
CLUB
– Up to 10 Senior Football League Round Games
– All SFC Games
– IFC Final
– JFC Final
– SFL Division 1 Semi Finals & Finals
– Ulster Club Championship games involving Fermanagh teams (football and hurling)
COUNTY
– Dr McKenna Cup
– National Football League
– National Hurling League
– Minor Football Championship
– U20 Football Championship
– Lory Meagher Cup
OTHER
– St Michael's games (weekend /bank holidays)
Simply follow the details above to get your access.
Individual games will be available at £2.50 each so the Season Pass is a wonderful saving.