Battling Fermanagh fall to first defeat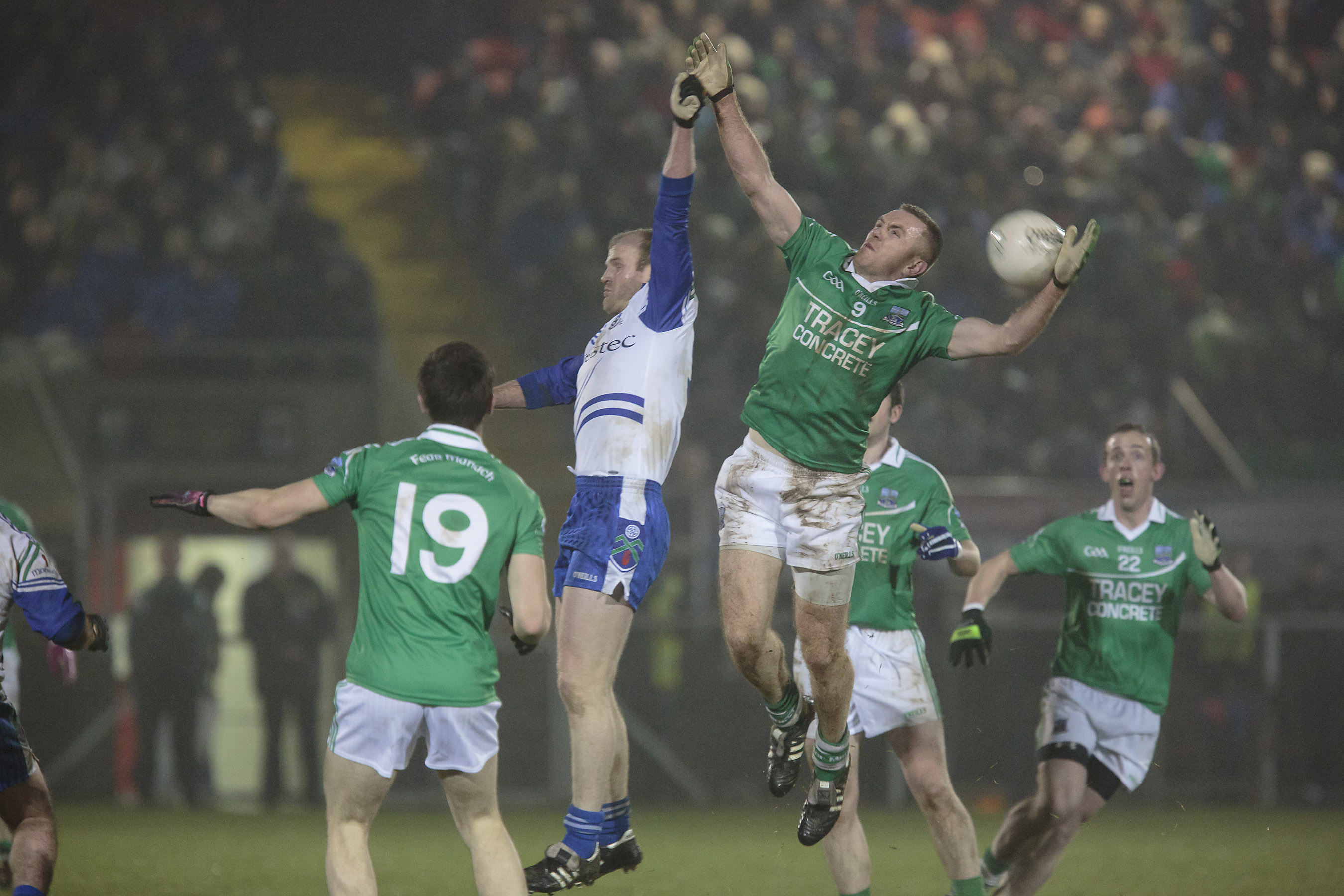 Fermanagh 0-12? Monaghan 0-14
Fermanagh fell to their first defeat of the league campaign when falling by two points to Monaghan following an entertaining encounter at Brewster Park on Saturday evening.
Fermanagh put in a battling display but just missed a few frees and hit the upright four times at crucial periods while Monaghan's ability to score from long range was probably decisive.
Add in their physical superiority and therein lies the fine margins between victory and defeat.
It has to be said, though, this is as good as Fermanagh have played and battled in a couple of years against a quality Monaghan side and the good start to the campaign will have lost little in this reverse.
The desire to win the ball and support of the man in possession was excellent and augurs well for the rest of the season during which a few key players will also return.
In an exciting game, Monaghan did miss a penalty when Snow saved in the 49th minute while they were reduced to 14 in the final seconds as Colin Walshe received a second yellow as former Fermanagh manager Malachy O'Rourke enjoyed a win on his return to Brewster Park.
Fermanagh came out of the traps all guns blazing and rattled over four quick fire points in four minutes as they dominated at midfield and turned that possession into scores.
Shane McCabe opened the score picking up a pass from Daryl Keenan after which Marty McGrath fielded a great ball and with McCusker fouled, Paul Ward converted to make it 0-02 to 0-02.
Fermanagh were flying and Ward got his second of the game fielding a high ball from Marty O'Brien and when Tomas Corrigan pointed after good work from McElroy, Fermanagh had made the perfect start as they led 0-04 to 0-00 after four minutes.
The game was wide open and Conor McManus took a short free and pointed the return to get the visitors on the board.
Finlay pointed to reduce the gap to two before a poor kick out was fielded by Owen Duffy and it was a one point game.
A Keenan point made it 0-05 to 0-03 before Monaghan rattled off five without reply from McManus (2), Duffy (2) and Finlay.
Tomas Corrigan wriggled free to to make it 0-08 to 0-06 and then a period of pressure yielded nothing after which Monaghan went down the field and Finlay pointed a free to make to 0-09 to 0-06 at the break.
Indeed, trailing by three at the break, Fermanagh could have been staring at a heavy defeat as Monaghan were in the ascendancy.
However, the home side are made of sterner stuff this year and showed their intent at the start of the second period getting back on top at midfield through Marty McGrath and two Paul Ward frees reduced the gap to a point at 0-09 to 0-08.
However, Monaghan's ability to score from little possession was evident when Paul Finlay rattled over a superb long range point from wide on the left to make it 0-10 to 0-08.
Fermanagh then hit a wide and two posts with attempted points before Tomas Corrigan made it a one point game with a superb free.
The home chances seemed to be undone when Conor McManus was fouled by Tommy McElroy as he went for goal but Snow saved Darren Hughes poor penalty and Fermanagh were still in the game.
Indeed, when Ward levelled soon after at 0-10 to 0-10 the momentum was with Fermanagh but Monaghan did have that wee bit extra to keep edging in front.
McManus made it 0-11 to 0-10 before Ward levelled with his sixth of the game but a McManus point from play was to give them a lead they were not to relinquish.
Owen Duffy and Tommy Freeman made it 0-14 to 0-11 before a Ryan Jones point with the last kick of the game made it 0-14 to 0-12 when the highly inconsistent Padraig Hughes blew the final whistle.
And so, it was Monaghan who edged the win and leap frog Fermanagh in the table with six points while Fermanagh remain well positioned with five.
See Thursday's Impartial Reporter for reaction and preview of the Cavan game next week.
teams
Chris Snow, Niall Bogue, Anthony McGuinness, John Woods, Marty O'Brien, Brian Cox, Declan McCusker, Shane Lyons, Martin McGrath, Tommy McElroy, Shane McCabe (0-01), Eoin Donnelly, Paul Ward (0-06 4f), Tomas Corrigan (0-03 1f), Daryl Keenan (0-01 1f)
subs Daniel Kille for Donnelly, Conor Quigley for McCusker, Ryan Jones (0-01)for McGrath, Barry Owens for McGuinness, Ruairi Corrigan for Kille
Mark Keogh, Dessie Mone, Fintan Kelly, Kieran Duffy, Colin Walshe, Darren Hughes, Karl O'Connell, Owen Lennon, Dick Clerkin, Gavin Doogan, Kieran Hughes, Owen Duffy (0-04), Conor McManus (0-05 2f), Paul Finlay (0-05 3f), Chris McGuinness
Drew Wylie for O'Connell, Tommy Freeman for McGuinness, Neil McAdam for Clerkin,? Dermot Malone for Doogan