A Busy Weekend of Gaelic Games in Fermanagh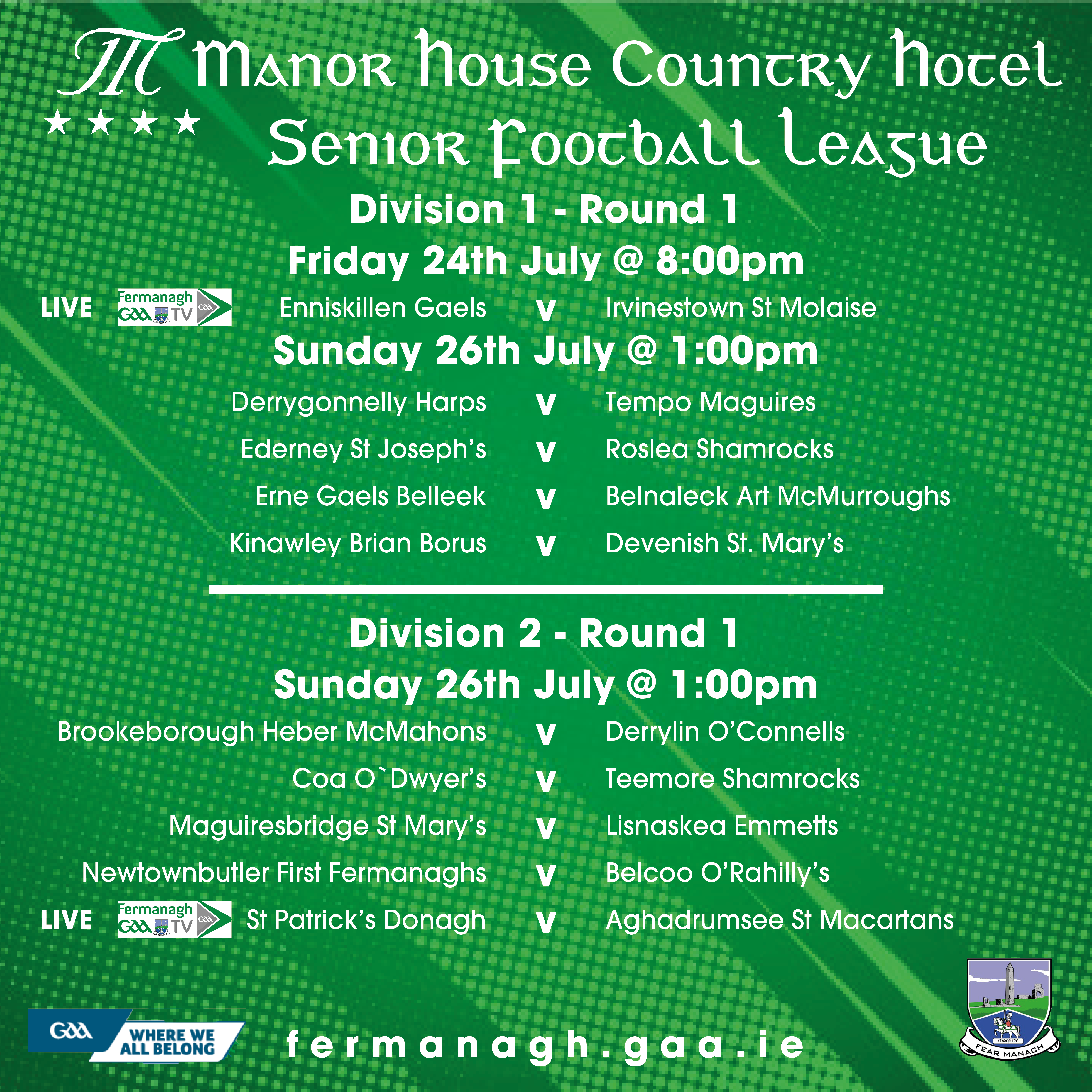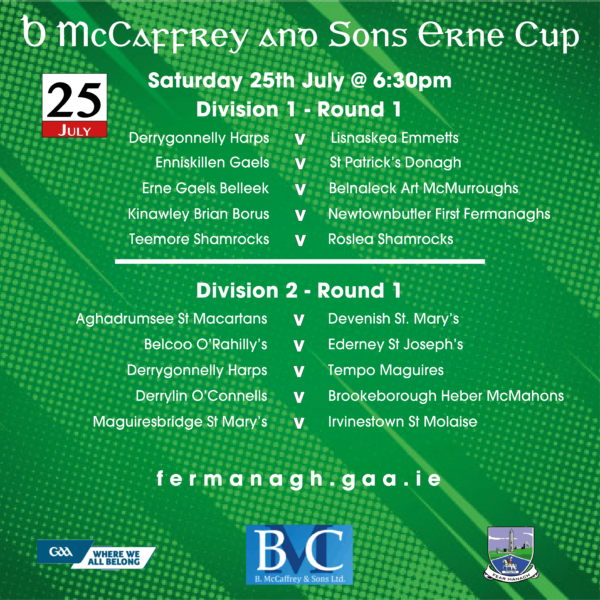 The 2020 Manor House Country Hotel Senior Football League will get underway with a full round of fixtures in both Division 1 and Division 2.
At the time of writing, it is unclear whether or not spectators will be allowed to attend games but Fermanagh GAA, in conjunction with the clubs in the county, will keep you updated as much as possible across our various platforms regardless of what happens in that regard.
The action begins with Enniskillen Gaels hosting Irvinestown St Molaise in Brewster Park on Friday night in a game that can be watched for free on Fermanagh GAA TV and which kick starts a very busy period for the ever expanding broadcasting offering within the county. To watch the game, simply visit www.fermanagh.gaa.ie/FermanaghGAATV 15 minutes before throw-in and join us for the return of live Senior Football League activity in Fermanagh.
Devenish's Michael Keown will be the referee for this game, which offers both sides a chance to set out their stall ahead of their meeting in the Intermediate Football Championship Quarter Final at the end of August.
On Sunday, the other 9 SFL games will all be played at 1:00pm and details on those can be found below. Your attention is drawn to the other televised game of the weekend between St Patrick's Donagh and Aghadrumsee St Macartan's live from Louis Leonard Memorial Park in Donagh.
Both these live games will be free to watch and available to replay on Fermanagh GAA TV at a time of your choosing if you miss them live, which we know will be the case for a lot of people who may be training on Friday night or who will have a game of their own on Sunday.
In what is a very busy weekend of Gaelic Games activity across the county, the Finals of the U19 Football League will also be played on Friday night as Teemore Shamrocks host Devenish St Mary's in the Division 2 decider and Aghadrumsee St Macartans travel to O'Connell Park to take on Derrylin O'Connells in the Division 3 Final. Both those finals throw in at 7:00pm on Friday.
There are also 10 games taking place in Round 2 of the B McCaffrey & Sons Erne Cup on Saturday evening at 6:30pm. Earlier on the Saturday, the U17 Football League gets underway with fixtures scheduled for 11:00am in venues across the county. As things stand, a parent who is bringing a player to a match at U17 level or below is allowed to remain for the game as they are seen to be involved in the organisation of it due to the need for transportation of players. This may be loosened ahead of the weekend, but we can just wait and see. Keep an eye on our various platforms for any updates as they happen.
In Ladies Football, there will be a full round of Senior League games on Sunday morning at 10:00am, which will be preceded by action in the Minor age grade on Thursday evening.
To conclude the weekend activity, Round 2 of the U11.5 Hurling League will take place and it is really positive to see so many clubs and players taking part in hurling from across the county and space being freed up in the weekly calendar to allow an uninterrupted flow of games for players. Monday also sees activity for U14 girls, which brings a busy five day period to an end and one which we hope everyone enjoys.
We are all hopeful of a lasting return to activity on the field of play and the return of club action is a very welcome development.
Manor House Country Hotel Senior Football League Division 1
Fri, 24 Jul, Venue: Brewster Park, (Round 1), Enniskillen Gaels V Irvinestown St Molaise 20:00 LIVE ON FERMANGH GAA TV
Sun, 26 Jul, Venue: Derrygonnelly, (Round 1), Derrygonnelly Harps V Tempo Maguires 13:00
Sun, 26 Jul, Venue: Pairc na hEirne, (Round 1), Erne Gaels Belleek V Belnaleck Art McMurroughs 13:00
Sun, 26 Jul, Venue: Kinawley, (Round 1), Kinawley Brian Borus V Devenish St. Mary's 13:00
Sun, 26 Jul, Venue: Gardrum Park, Dromore, (Round 1), Ederney St Joseph's V Roslea Shamrocks 13:00
Manor House Country Hotel Senior Football League Division 2
Sun, 26 Jul, Venue: Louis Leonard Memorial Park, (Round 1), St Patrick's Donagh V Aghadrumsee St Macartans 13:00 LIVE ON FERMANGH GAA TV
Sun, 26 Jul, Venue: Brookeborough, (Round 1), Brookeborough Heber McMahons V Derrylin O'Connells 13:00
Sun, 26 Jul, Venue: Newtownbutler GAA, (Round 1), Newtownbutler First Fermanaghs V Belcoo O'Rahilly's 13:00
Sun, 26 Jul, Venue: Coa, (Round 1), Coa O`Dwyer's V Teemore Shamrocks 13:00
Sun, 26 Jul, Venue: St. Mary's GFC, (Round 1), Maguiresbridge St Mary's V Lisnaskea Emmetts 13:00
B McCaffrey & Sons Erne Cup Division 1
Sat, 25 Jul, Venue: Derrygonnelly, (Round 2), Derrygonnelly Harps V Lisnaskea Emmetts 18:30
Sat, 25 Jul, Venue: Brewster Park, (Round 2), Enniskillen Gaels V St Patrick's Donagh 18:30
Sat, 25 Jul, Venue: St Marys Park, (Round 2), Teemore Shamrocks V Roslea Shamrocks 18:30
Sat, 25 Jul, Venue: Kinawley, (Round 2), Kinawley Brian Borus V Newtownbutler First Fermanaghs 18:30
Sat, 25 Jul, Venue: Pairc na hEirne, (Round 2), Erne Gaels Belleek V Belnaleck Art McMurroughs 18:30
B McCaffrey & Sons Erne Cup Division 2
Sat, 25 Jul, Venue: Derrygonnelly, (Round 2), Derrygonnelly Harps V Tempo Maguires 18:30
Sat, 25 Jul, Venue: Belcoo, (Round 2), Belcoo O'Rahilly's V Ederney St Joseph's 18:30
Sat, 25 Jul, Venue: Aughadrumsee St. Macartan's, (Round 2), Aghadrumsee St Macartans V Devenish St. Mary's 18:30
Sat, 25 Jul, Venue: St. Mary's GFC, (Round 2), Maguiresbridge St Mary's V Irvinestown St Molaise 18:30
Sat, 25 Jul, Venue: Derrylin, (Round 2), Derrylin O'Connells V Brookeborough Heber McMahons 18:30
U19 FL Division 2
Fri, 24 Jul, Venue: Teemore, (U19 Division 2 League Final), Teemore Shamrocks V Devenish St. Mary's 19:00
U19 FL Division 3
Fri, 24 Jul, Venue: Derrylin, (U19 Division 3 League Final ), Derrylin O'Connells V Aghadrumsee St Macartans 19:00, Ref: Gerard Gallagher
U17 FL Division 1
Sat, 25 Jul, Venue: Derrygonnelly, (Round 1), Derrygonnelly Harps V Irvinestown St Molaise 11:00
U17 FL Division 2
Sat, 25 Jul, Venue: Brewster Park, (Round 1), Enniskillen Gaels V Lisnaskea Emmetts 11:00
U17 FL Division 3
Sat, 25 Jul, Venue: Ederney, (Round 1), Ederney St Joseph's V Belnaleck Art McMurroughs 11:00
Sat, 25 Jul, Venue: Brokeborough, (Round 1), St Mary's (B'boro & M'bridge) V St Patrick's Donagh 11:00
U11.5 Hurling Development League
Mon, 27 Jul, Venue: Enniskillen, (Round 2),  Enniskillen Gaels V Belnaleck Art McMurroughs 19:30
Mon, 27 Jul, Venue: Lisnaskea, (Round 2), Lisnaskea Hurling V Lisbellaw St Patrick's 19:30 ok
Mon, 27 Jul, Venue: Ederney, (Round 2), Ederney St Joseph's V Erne Gaels Belleek 19:30 ok
Mon, 27 Jul, Venue: Knocks, (Round 2), Knocks Grattans V St Aidan's GAC 19:30
O'Neills Sponsored LGFA Senior League Division 1
Sun, 28 Jul, Venue: Tempo, (Round 2), Tempo Maguires v Devenish St Mary's 10:00
Sun, 28 Jul, Venue: Derrygonnelly, (Round 2), Derrygonnelly Harps v Kinawley Brian Borus 10:00
O'Neills Sponsored LGFA Senior League Division 2
Sun, 28 Jul, Venue: Lisnaskea, (Round 2), Lisnaskea Emmetts v Aghadrumsee St Macartans 10:00
Sun, 28 Jul, Venue: Enniskillen, (Round 2), Enniskillen Gaels v Belcoo O'Rahilly's 10:00
Sun, 28 Jul, Venue: Brookeborough, (Round 2), Brookeborough Heber McMahons v Ederney St Joseph's 10:00
O'Neills Sponsored LGFA Senior League Division 3
Sun, 28 Jul, Venue: Maguiresbridge, (Round 2), Maguiresbridge St Mary's v Belnaleck Art McMurroughs 10:00
Sun, 28 Jul, Venue: Derrylin, (Round 2), Knockninny v Irvinestown St Molaise 10:00
Sun, 28 Jul, Venue: Belleek, (Round 2), Erne Gaels v St Patrick's Donagh 10:00