14 man Fermanagh crash out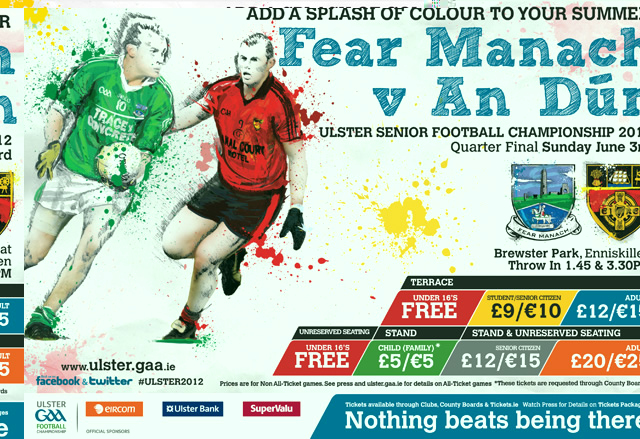 Taken from http://www.impartialreporter.com/news/roundup/articles/2012/06/03/396923-14-man-fermanagh-crash-out-/
Fermanagh 1-08 Down 2-10
Fermanagh 1-08 Down 2-10
14 man Fermanagh crashed out of the Ulster Championship at Brewster Park when they were well beaten by Down.
The game turned as early as the ninth minute without a score on the board as Daryl Keenan received a red card for an off-the-ball incident. Keenan was tripped initially with the umpire determining to the referee that it was worthy of a red card.
Fermanagh had started with a defensive gameplan with Shane Lyons sweeping and Keenan dropping deep on the right.
The problem was especially with 14 men, Tomas Corrigan was a lone figure in the full forward line and with Kalum King and Ambrose Rogers dominating midfield, Down dominated the first half.
Donal O'Hare got the first score of the game and while Kille equalised in the 16th minute, it was all Down thereafter.
1-04 without reply in 12 minutes gave them a lead they were never going to relinquish. O'Hare fired to the net after picking up a break ball in the box and points from Rodgers, Kevin McKernan, Aidan Carr and Conor Maginn left it 1-05 to 0-01 after 32 minutes.
Brendan McArdle added a point but Fermanagh had the final say of the half with two points from the hard working Kille to make it 1-06 to 0-03.
Conor Quigley and Eamon Maguire came on at the break and King and Kille exchanged points before Fermanagh got back into the game with a much needed goal.
Maguire's quick free kick found Damian Kelly and he netted on 46 minutes to make it 1-04 to 1-07.
Crucially though, Down scored 1-02 after that three pointer and that to all intents and purposes ended the game.
Backs Dan McCartan and Kevin Duffin pointed before Laverty ended the game with a well taken goal after getting the better of an unlucky Niall Bogue.
At 2-09 to 1-04, the game was now over but Fermanagh battled to the end and substitute Seamus Quigley fired over two frees and Paul Ward and Corrigan pointed from play as Down run out worthy winners by 2-10 to 1-08.
Check out Thursday's Impartial Reporter for all the actions, photos and reaction to this defeat.
Fermanagh
R. Gallagher; N. Bogue, B. Owens, N. McGovern; D. Kelly (1-01), B. Cox, B. Mulrone; S. Lyons, M. McGrath; D. Keenan, B. Og Maguire, E. Donnelly; T. Corrigan (0-01), D. Kille (0-03, 2f), T. McElroy.
Subs – C. Quigley for Cox, E. Maguire for Og Maguire, R. Jones for McGrath, S. Quigley (0-02, 2f) for McElroy, P. Ward (0-01) for Kille
Down
B. McVeigh; D. McCartan (0-01), B. McArdle (0-01), D. O'Hagan (0-01); A. Brannigan, K. McKernan (0-01), C. Garvey; A. Ambrose (0-01), K. King (0-01); D. Hughes, M. Poland, A. Carr (0-01, 1f); C. Laverty (1-00, D. O'Hare (1-01), C. Maginn (0-01)
Subs – Duffin (0-01) for Carr, E. McCartan for Poland, McConville for Laverty, D. Rooney for Rodgers, D. Turley for Brannigan