Tempo Maguires
Tempo Host Health and Wellbeing Officer Meeting
Couch to 5k programme 2017
Tempo Maguires GAC are excited to be working in partnership with Cancer Focus to offer the popular Couch to 5k exercise programme in Tempo.
 "The Couch to 5K plan is designed to get you off the couch and gradually work you up to running five kilometres in just eight weeks. A 5k fun run will take place in Tempo on 11th March 2017 for participants of this programme.
 "Probably the biggest challenge a novice runner faces is not knowing how or where to start. Couch to 5K works because it starts with a mix of running and walking, gradually building up your fitness and stamina slowly, therefore creating realistic expectations and making the challenge feel achievable from day one.
 "This challenge is for everyone, whether you've never run before or if you want to get back into being more active. A professional trainer will oversee the programme and guide you through the necessary steps.
 "Join us on Tuesday 17th January 2017 in the Tempo Maguires GAC clubrooms at 7:00pm to register for this fitness programme. The eight-week programme costs just £35 and this includes two training sessions every week (Tuesday evenings and Saturday mornings). Proceeds from this programme will be donated to Cancer Focus. For more details, please contact 07985955555."
Alcohol Awareness Talk
Fermanagh Health & Wellbeing chair Damien McHugh delivered a great workshop on Alcohol & Sport in Tempo Maguire's Clubrooms on Monday 4th April.  This is part of the Health Champion evenings which is being delivered by the County Health & Wellbeing Committee.
Thank you to Damien for his great presentation, also to Fiona McGlue (Cancer Focus NI) and Aisling Pearson (Pharmacist) for both being in attendance. Well done to Vonnie Fee Tempo Maguire's Health & Wellbeing Club Officer who is doing great work on the ground in her role.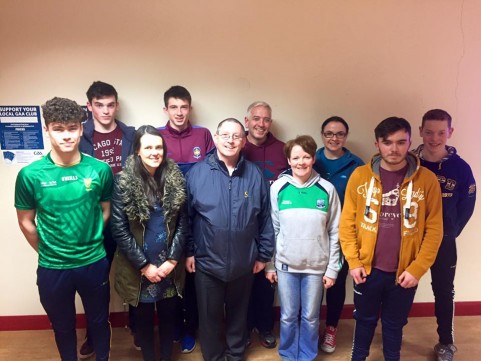 Tempo Maguire Players, Ryan, Patrick, Aisling Pearson (Pharmacist), Tiarnan, Damien McHugh (Fermanagh Health & Wellbeing chair), Sean Murphy (Tempo Secretary), Vonnie Fee (Tempo Health & Wellbeing Officer), Fiona McGlue (Cancer Focus NI), Daniel & Oisín.