Health & Wellbeing

5 Steps to Wellbeing
Sunday 10th December was World Suicide Prevention Day and to mark this occasioin health and well being officers from around the county helped to hand out leaflets and pens at Brewster Park and Shamrock Park (Roslea) on the day highlighting the 5 steps to wellbeing campaign developed in conjunction with Ulster Council and Croke park.  Chairperson of the Fermanagh GAA Health and Wellbeing Committee (Damien McHugh) also addressed the crowds highlighting that every year in Irleand some 12,000 attempted suicides take place and that Irleand ranks 4th in the world for teen age suicides.  One way of helping tackle this problem is the 5 steps to wellbeing programme.
STep 1. – Connect
Connect with People around you, friends, family, neighbours and colleagues as well as your local community building these connection will support and enrich you every day
Step 2. – Be Active
Go for a walk, run or cycle, do some gardening or go dancing.  Do any form of physical activity that you enjoy and that suits your level of mobility and fitness.
Step 3. – Take Notice
Be curious about the world around you, catch sight of the beautiful.  Notice the changing seasons.  Be aware of the world around and what you are feeling.  Reflect on your experiences.
Step 4. – Keep Learning
Try something new or rediscover an old interest.  Set a challenge for yourself that you will enjoy achieving.  Learning new things will make you more confident as well as being fun to do.
Step 5. – Give
Do something nice for a stranger.  Thank someone or just smile.  Volunteer your time, or join a community group such as the GAA and get actively involved.  Look outwards as well as inwards.  Seeing yourself and your happiness linked with the wider community can be incredibly rewarding and will create connections with the people around you.
Social Initiative Trip to Croke Park
Some photos of a very successful day out in Croke Park which included a stadium tour, Lunch in the Premier Level where we were briefly joined by An Uachtarain of the GAA  Aogán Ó Fearghail who chatted and joined us in some photos.  We then had some time in the GAA museum before heading home to Fermanagh.
Health and Wellbeing Officer Meeting
30th January 2017
First meeting of the club health and wellbeing officers was very well attended and information was shared on what's happening in the county.  Ciaran McLaughlin, Chair of the national Health and Wellbeing committee outlined what is happening at national level and Damien McHugh gave an outline of the priorities for the county committee.  Ann Curran then outlined a social initiative trip to Croke Park with details to follow.  Damien went through the role of the HWO and a brief introduction to what being a healthy club entails.  Ciara Hughes (Erne Gaels) then gave an interesting insight into what it has been like to be part of the healthy club project.

The GAA is delighted to launch the next stage of its Healthy Clubs Project (HCP) – and are encouraging more GAA clubs get involved to support communities in pursuit of better physical, social, and mental wellbeing. Clubs can learn more at the GAA Healthy Club Roadshows – see dates and venues below.
60 clubs – at least one in each county – are currently engaged in Phase 2 of the HCP, building on the pioneering efforts of the 16 clubs that completed Phase 1. Responding to identified needs amongst their memberships and communities, the clubs are engaged in health promoting campaigns and programmes addressing such interesting and important topics as: health eating, smoke-free clubs, emotional wellbeing and mental fitness, physical activity opportunities for non-playing members, engaging older community members, youth development, gambling, drug, and alcohol awareness, heart health, suicide awareness, and even blood donation.
While GAA clubs have always played an important role in supporting the health of its members and communities, the Healthy Clubs Project (HCP) aims to bring this positive influence to a new level.
In order to increase awareness about the positive potential of the HCP, and the exceptional work being undertaken by our 60 ground-breaking Phase 2 Clubs, we're hitting the road this Spring for four provincial Healthy Club Roadshows designed to inspire Healthy Club heroes and champions around the county.
To register for a Healthy Club Roadshow click on one of the links below: Connacht Healthy Club Roadshow – 4th February Connacht GAA Centre of Excellence Munster Healthy Club Roadshow – 18th February, Nemo Rangers GAA Club, Cork Leinster Healthy Club Roadshow – 11th March, Croke Park, Dublin Ulster Healthy Club Roadshow – 1st April, Ulster Universrity, Jordanstown, Belfast
NOTE: You can only attend the provincial event that you club is located in and numbers per club are limited to four. All events are over-12 and free of charge with a healthy lunch provided by Aramark.
The roadshows will feature fascinating contributions from four renowned ambassadors, each one selected to bring to life experiences that have influenced their GAA careers and lives. These are:
· Philly McMahon – emotional wellbeing and mental fitness
· Anna Geary – healthy eating and health promotion
· Michael Fennelly – physical activity
· Mickey Harte – community engagement and support
One of the most common questions we are asked by clubs interested in enhancing the health and wellbeing of their members is what can we do and where do we start? The roadshows aim to help answer those questions and fire up the imagination of anyone interested in getting their club involved in Phase 3. In addition to the ambassador's contributions, four Healthy Clubs will, at their respective provincial event, share some of the exceptional work they are undertaking under the four areas of work outlined above.
The HCP primary interest is about making every club a hub for health, and that everyone's experience of their local GAA club will be positive and health-enhancing.
The HCP is run in partnership with the HSE, Healthy Ireland, the PHA (NI), and Irish Life. The latter's generous corporate social responsibility investment has allowed the HCP grow to its current level, and means we can bring these four roadshow events to you free of charge. For more information, visit: gaa.ie/community

Check back every day for a new daily meal plan
Obesity Prevention Campaign
9th – 15th January 2017
Recipes for SUCCESS
"You are what you eat" 
truer on the sporting field than it does in every day life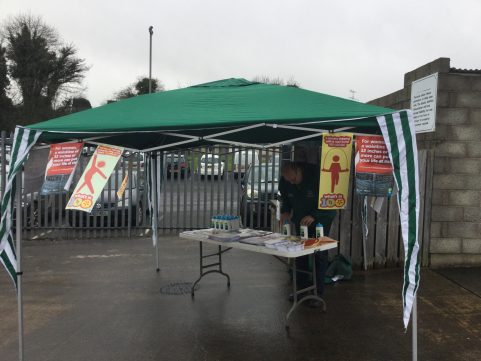 ________________________________________________________________________
Get more active lets get off the couch and onto our feet an ideal time to check out some of the couch to 5k programmes or running/athletics clubs or go for a swim etc.  #whatsin100
Be aware of your portion size an extra 100 calories a day can add on lbs in extra weight that's just 1 medium Latte or 1 1/2 custard cream biscuits or half a pint of beer 
County Health and Wellbeing Committee
County Health and Wellbeing Committee Background
As per motion passes at congress 2013, each county from the 1st January 2014 to put in place a County Health and Wellbeing committee.
Fermanagh County Board set up this committee.
Responsibility:-
To assist the county board and the clubs in identifying and responding to the Health and wellbeing needs of our members in a planned and appropriate manner, both directly through appropriate GAA programmes and by way of signposting to the partnering with relevant local services providers for training/education delivery.
Liaise with Provincial Council and Croke Park for support, direction and assistance.
The County Health and wellbeing Committee shall put in place an action plan over a 2/3 year period.
The committee will liaise with relevant outside agencies and engage their assistance in delivering the action plan.
This committee will make available resources to clubs to promote health, as provided by Ulster Council, Croke Park and other external Statutory, Voluntary, or Community agencies.
This committee will provide support, advice and signposting to clubs on health related matters.
The committee will present a report on the work of the committee at County Committee meetings.
Committee Members
Damien McHugh (Chairperson)
Contact Damien on E-MAIL Chair.hwc.Fermanagh@gaa.ie

Ann Curran (Secretary)
Martin McBrien (Derrylinn)
Theresa McNabb (County GDM Officer)
Phil O'Connor (Acting GDM)
Aine Martin (Lisnaskea)
Useful Sites
Ulster GAA Health and Wellbeing
National Health and Wellbeing link
Minding your head. Link to PHA mental health advice